Week 17 Championship Pick
Thank you to all for a great year. The Finale is here.
Red Pep vs. Rumors
Forx fans are left wondering how Team Pepper is staying focused these days with another championship game on the line. Between business expansion and going viral over stolen white sauce, article here, there is plenty on this teams 'garbage plate'. Forx Commish adding to the white sauce drama, "I snag 6 to 7 bottles a week and pawn them off on various Facebook Garage Sale Groups." Commish also left this note in spite of the act, seen here. Goalie drama has been over shadowing this squad as well as they look to find a replacement, best described here(Viewer Discretion Advised, also make sure to turn on captions).  The Rumors club will be a few bodies short for the Finale. Rumors Kouba, "I plan to catch the highlights on ESPN's the Cinco," as he vacations in Mexico. Meanwhile, Rumors Green reporting in, "I'm in great shape, since switching to E-Cigs, feel like I can rattle off a couple back to back, 6 minute shifts."
The season comes to an end tonight. Both teams have been here. Pepper is loaded with talent. The Rumors team will need to find a way to stifle the playmakers as they did last week. Decker always ready and will be tested one final week. Rumors the higher seed throughout the tourney but Pepper has the tools to repeat. Good Luck to the Squads…
Pep 5-3
Week 16 Picks
Forx Frozen Four
GR-Day vs. Rumors
Daydreams Road to Redemption is underway as they have fought all the way back to the scene or last years heartbreak. "Pretty sure I cried until mid-April last year", said the Commish. Rumors Kouba, has been cleared and informed that his visor tint was deemed legal by Forx League Officials despite safety concerns during the last matchup between these two squads. Issues arose when Daydreams, M. Lukkason became distracted after catching a glimpse of his own reflection and became disoriented thinking there were two of him on the ice at once. With that issue behind them, Rumors Wurden also dodging the league office after being told repeatedly to either shave his beard or tightly tie that animal into a man bun to avoid further league fines. – These two teams battled once this season in what was considered in instant classic as it went to a shootout with some late game heroics by Theisen and B. Lukkason for GR-D. Forx Fans will be expecting more of the same. Rumors is a deep team and Decker between the pipes is a finely tuned machine. The leagues MVP in Lukkason will need to find a way. GR-D takes this to another extra frame… Coinflip with some bias involved.
GR-D 5-4 OT
Red Pep vs. GR-B
Great news from the Pepper camp as test results and X-Rays came back negative on J. Tellmann's hearing impairment tests. Major concerns were made apparent after a 'Howitzer' of a slapshot was taken from the faceoff dot seconds after a whistle in what is also of note, that Forx is a no slapshot league. Tellmann, "Hey man, just glad I didn't have that Bilateral Inner Ear Weakness like that Brown guy had on the Daydreams team!" Tellmann later tested positive for poor one-liner jokes. -- The Leagues Goalie of the Year, Kvistad, for the Broods will have his hands full. Broods have frustrated teams all year with their defensive skills but this is a stacked Pepper team with eyes on a repeat. Pepper has the goal scorers to move on…
Pep 6-4
Week 15 Picks
With 4 teams Beer League dreams to end Wednesday night, Forx hockeys front office bracing for players to sign contracts elsewhere and for-go their Forx eligibility to finish out their season. "It's something we tip-toe around every year", said the Commish during the bye week. "You'll see a few of the Elite guys sign on with the Panzer skate next door and a few may even jump back to the other league for a make-believe playoff run".  To all: Have a Great Week!!
Adams vs. Red Pep
Both teams coming off a much needed 'Resting of the Bodies' last week during the Bye Week. Notable concern coming from the Red Pepper locker room as Pep's goalie, Martinson, was not in net last week. Team doctors were quick to announce that he was suffering from flu-like symptoms that kept him out of the contest against such a big arch rival, in GR-D. The bigger news came from Forx Hockey Leagues own, between the benches reporter, Adam Skefter, that Martinson was actually recovering from side effects of eating what he thought was an Oreo flavored TidePod… Cant fault the guy as they do look delicious. They'll need him back in net as the round of 8 begins here. Both teams have struggled all year to skate with a full roster on hand. When Peppers crew is all there, their speed has hard to counter.
Pep 6-4
BWW vs. GR-B
GR-B's Hovet reportedly feeling 'Refreshed' after taking up Yoga during the Bye week. "I feel incredibly limber this week", said Hovet, "In fact, I've been spending most my hours on the weekends on designing my own line of skin tight, Male Yoga Pants". Exciting news to see Forx hockey players excelling outside of the rink. I know I'll be in line for the first version of Hovet's 'Bro-ga' Pants. Back to reality, BWW always seems to find an extra gear against either of the GR teams. 1 vs. 8 on paper but I expect this to be played like a 1 vs. 2. GR-B losing a player to an infected hang nail but that aside should be able to push on to the next round. Hovet and Kwiatkoski will be the forwards to keep an eye.
GR-B 7-4
AE2S vs. GR-D
Strange tactic was discovered from the AE2S team bench last week, as 2S's, S. Gaddie, entered last weeks game wreaking of Axe Body Spray. According to TMZ-Sports, he tries to 'Skunk out' his opponents. I personally wafted in the cloud from 15 feet and became light headed seconds later. Smelled like a Junior High School Dance…….. GR-D looking to rebound after a lack luster performance last week. GR-D needs to get their top line going early as AE2S has been the team to take the early lead in the past few matchups. GR-D survives a good rivalry.
GR-D 5-3
Atlas Auto vs. Rumors
Atlas ready to turn their attention to their next round opponent after a borderline dumpster-fire finish to last weeks contest. Neith for Rumors has been on fire as an Offensive D-Man and he has line mates to support the cause. The Roinila Brothers have been skating together regularly, now that Matti has been back in the lineup, and have plenty of offense of their own. All games this week will be great matchups but this has the potential to be a shootout. Couple of the best goalies and some offensive fire power to add to the mix. Pop that Corn and hunker in for a classic.
Rumors 5-4 in OT
Week 14 Playoff Picks
*Breaking News*---With the Forx Hockey Awards Banquet set for after the season concludes, a photo recently surfaced of a couple Forx Hockey Interns on their way to a planning committee meeting. Voting is still underway for Commissioner of the Year but from the photos, it seems its already been decided??!!… #commishgate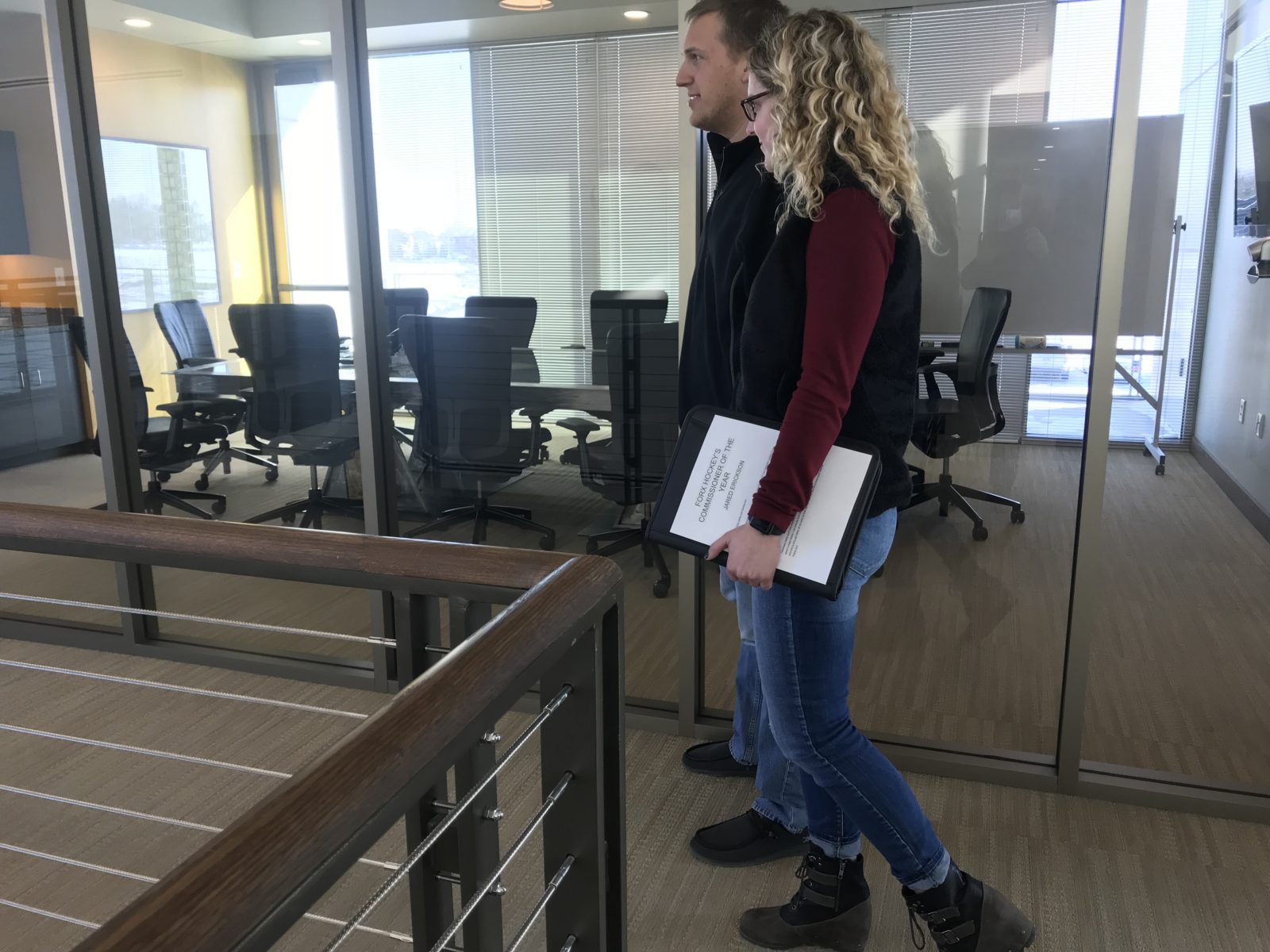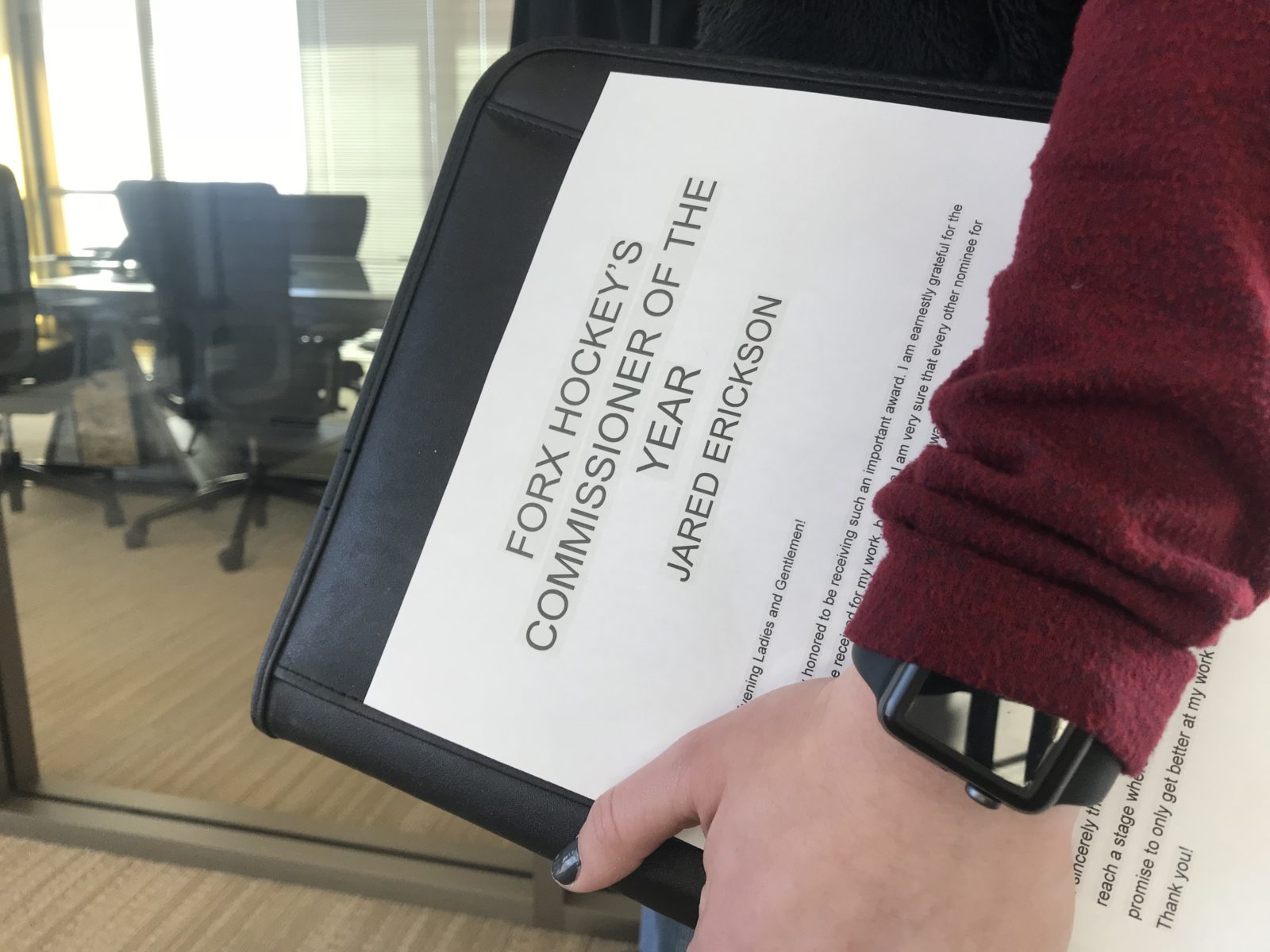 Joe Blacks vs. Atlas Auto Playoff #1
Local television station, KVLY, is in current talks with NBC in an attempt to Blackout Olympic coverage Wednesday night and to send a video crew to feature 3 hours of Forx Playoff games. In a sit-down with KVLY's, Andrea Larson and Mike Morken, the Commish had this to say, "Incredibly humbled at the opportunity!! I knew Forx was the wave of the future when I came up with the idea at age 6, but had no idea it would blossom into this just a little over one year in. One might say, I'm living my own Olympic Dream….". As that probably brings a soft tear to everyones eye; the 1st of 2 playoff games begins here and will be a fun one to watch. Joes coming off a giant, first win of the season will be looking to continue their game play into a tough Atlas squad.  Joes has been the underdog for the better part of the season and its hard not to root for them as most Forx fans can attest. Atlas is a tough first round opponent no matter what round of the playoffs it is. Atlas has the tools to push on.
Atlas 6-3
R&R vs. BWW Playoff #2
The 3rd, and what the Forx Management team hopes will be the final installment this year of the coveted "My Dad is still and always will be stronger than your dad" hockey series. A great representation can be seen here with a shot from the movie, Over the Top, where Sly Stallone plays a really cool dad that everyone wishes they had growing up. What will most certainly be a ref's nightmare of a game to officiate is considered to be a cointoss of a matchup according to Forx analysts. R&R's Corbett on the game, "I'm extremely nervous right now… not so much about the game… but because I told my girlfriend I had to work late on Valentines Day… it'd be great if you didn't use my quote this week." R&R looking to get back on track after 2 years in a row of being bumped out of the 6th spot of the standings on the final week of the regular season. In all honesty, if the teams keep their heads screwed on straight, this will be a shootout. R&R might just have that extra firepower to squeak this one out.
R&R 6-5
Week 13 Picks
If you're a loser like I am and have been checking out all the different scenarios that can happen this week, well then, I commend your efforts. It will be a crazy week and its pretty incredible that seeds 2-9 all have the potential to move about the standings. Should make for a fun week. Good luck Fellas….Now on to the picks.
Joes vs. R&R
Joes has been due for a win for some time now and are hoping to play spoiler this week. Joe Blacks Schneider on this weeks game, "Last Fridays Groundhog day… I rolled out of bed at the crack of 11am and saw my shadow…it scared the hell out of me… but its gotta mean good things to come". R&R controls their own fate and have the opportunity to claim the 6th spot with some help from a few other teams. Expecting to see a large fan base in the stands cheering for Joes hoping they can fend off the unperfect season. R&R needs it more.
R&R 6-4
AE2S vs. BWW
Both Squads on the preverbal 6th spot bubble. BWW's will be playing an emotional, shorthanded affair as a few mates are on this weeks naughty list. Last weeks Forx Gambucci Cup now coined as the Gampunchy Cup.  AE2S's Solc also playing an emotional game after learning that he will not be making the final cut for the Czech Olympic team. Solc, "I sent those guys like 20 emails with videos of my sweet moves too". Cant blame a guy for trying. AE2S skates on.
AE2S 5-3
GR-B vs. Adams
GR-B going into this week on cruise control after locking up the regular season champs title. Looking to rest a few bodies this week but impossible to do so when they play with literally 8 guys every week. GR-B's one loss came by way of Adams earlier this year. GR-B's Kvistad hoping his teams stellar defense has one more in them as he looks to butterfly style his way into a Goaltender of the Year honor roll. GR-B sneaks in one more W.
GR-B 6-5
Red Pep vs. Rumors
Game of the Week…with the potential for the most movement in either way for both teams again in the standings. Peppers Horn looking to stay hot and ride the wave into the playoffs. Horn's former Parole Officer was in the building last week, "Great to see he's turned things around…for now…". Hoping this game doesn't sell out before I get there. Be a fun one to watch. Rumors has been snake bitten in the matchups prior thus far. Rumors gets one back.
Rumors 6-4
GR-D vs. Atlas
GR-D's Dennison shockingly announced last week that week 13 will be his final game and has elected to undergo season ending wrist surgery. Although Dennison's probability of registering a point this year has been comparable to Jesus taking PTO on a Sunday, it seems Dennison has his eyes set on the upcoming softball season. The First matchup between these two was a fluky contest with most the bounces going GR-D's way. I expect things to be real tight especially with the resurgence of the Roinila brothers on a line together. GR-D looking to match that line with their own in Lukkason, Brown and Theisen. GR-D in a shootout.
GR-D 5-4
Week 12 Picks
AE2S vs. GR-D
GR-D's J. Brown makes his return to action after a 3 week surgery recovery. Brown on his time off, "People need to know that Bilateral Inner Ear Weakness is a real thing. It was tough… but it gave me time to find out who Joe really is… and darn it, I like the new Joe." …….. While no one will want to be on a line and skating with Brown after a comment like that, AE2S will be throwing everything at this team. AE2S' Johnson on his rematch preparations, "I'll fire up some Jewel on the ride to the arena and follow it up with a sixer of Redbulls, should get the body charged up". GR-D back to full roster is the key here.
GR-D 6-4
Atlas Auto vs. GR-B
Atlas in a battle for the 6th spot in the standings and a 1st round bye. GR-B needs two points or an Adams loss to secure their regular season as the #1 Squad. GR-B considered the favorite in this matchup but Atlas's M. Roinila, according to his facebook page, has other plans, "I watched G.I. Jane last night, so I know what it's like to be the underdog". Great flick…but Atlas will have their hands full.
GR-B 7-4
BWW vs. R&R
Forx Hockey's version of last weeks Gambucci Cup. Rosters divided in to what makes for a fun old time cross town Rivalry. I said it months ago and I'll say it again, this matchup screams the phrase "My dad is STILL stronger than your dad" if BWW can pull off another win against this squad. As an RR alum… BWW gets it done.
BWW 5-3
Rumors vs. Adams
Game of the Week…and for good reason. Valuable points on the line and some potent offenses should make this a fun one to watch. Also of note, the "Battle of the Tendies" could be coined here as two in the running for Tender of the Year will be on either end. I plan on getting there early to get a good seat, should be a crowd pleaser. One of my many coinflip games this year.
Adams 4-3 S/O
Joe Blacks vs. Red Pep
Joe Blacks Front Office will be a busy one after they have locked in next years 1st round pick. Players have been spotted scouting local high school players in anticipation of graduation, which makes them beer league legal. Joe's K. Kyle, "Hey man, we just wanna snag these guys before Pepper does". Knowing that the Forx Hockey Combine is not until Early June, they will have plenty of time to prep. Red Pep playing its 3rd late game in a row and looking to the Commish for some reprieve. Pep's Lindgren on the late nights, "These Mens One-A-Day© Supplements I've been taking just aren't enough to power me through to that 10 o'clock hour". Pep will get back on track after a tough loss.
Red Pep 6-2
Week 11 Picks
Joes vs. Adams
Adams Martinson and Grinde look to continue the charge this week as Adams has quietly stayed among the top 4 in the standings since early December. Grinde, "Our bond starts in the lockerroom, he ties my skates and I tie his…". T. Geatz on his teammates, "I put my skinny jeans on one pant leg at a time just like the rest of these guys, but I'll tell you, I tie my own damn skates." Joes fought hard last week. Theres no reason they can't do the same this week and give Adams a run for their money. Adams plays their game.
Adams 6-4
AE2S vs. R&R
S. Swiers settling into a productive position this year for AE2S, after fixing his 'pass button' that had appeared to be broken for the last 3 seasons. Swiers, "Pretty sure my assists this year were still actual turnovers that happily landed on my teammates sticks. Great to see the refs missed that…". R&R was happy to get Sabol back in net after suffering an arm injury back in December. A reminder that the injury was sustained during a slip and fall incident from a failed Entrepreneurial Dogwalking business, which is still up for this years Darwin Award. Sabol still getting acclimated to the game.
AE2S 5-4 S/O
Rumors vs. Atlas
A couple pine-riders in this contest. This would be my 2nd choice as the FHWNRGOTWATIA. Both teams in key positions to move about the Standings depending on how things go. 2 of the best Tenders square up but Rumors should have a slight advantage on the offensive front. Short and sweet.
Rumors 5-3
GR-D vs. GR-B
GR-D will get a 2nd chance at claiming the Golden Grounder popcorn trophy that the Commish constructed by hand seen here, on one of the loser GR-B's fireplace. A whiney Commish had this to say, "I spent 17 hours hand crafting and detailing each kernel of popcorn in that basket…I want it back". GR-D's A. Theisen on the matchup, "I need the rock tonight, feel as if I have the strength of 10 Beer-leaguers right now." Many key losses on both sides in this matchup. I think things even themselves out in that respect. Broods will be stingy as they have been all year.
Broods 6-4
BWW vs. Red Pep
BWW needs to bury a few this week. Z. Kwiatkoski looking to his teammates to join in on the action after he's put in a solid 1st half of the season. Kwiatkoski on his team, "I feel like Tom Hanks in that movie Castaway, on an island, need a little help…need my Wilson". Pep got back on track with a big performance from R. Horn and his 4 point night. More of the same from Pep against an unbalanced BWW.
Red Pep 6-2
Week 10 Picks
GR-B vs. Rumors
Broods coasted through the round of 9 with a 8-1 record. Broods expected to be missing a couple key performers but that wont stop this matchup from being slated as Forx Hockey's Wednesday Night Rivalry Game Of The Week At The Icon Arena. Of course, most Forx fans refer to it as, FHWNRGOTWATIA, for short. Broods strength of schedule the next 4 weeks is one of the leagues toughest as they begin the road to the playoffs. They get things rolling against the leagues 2nd ranked team. Buckle up beer league bros…should be a shoot out.
Broods 5-4 S/O
R&R vs. GR-D
Round 2. Was a battle back and forth on the season opener with GR-D sneaking in a late goal with an empty netter to follow. R&R coming off a huge upset last week and looking to make their way into the 6th spot in the standings. GR-D looking to exploit R&R's abundance of penalties they've taken thus far and should be able to do so, as the refs will clearly be favoring the Commish's squad yet again this week. GR-D will again be without the leagues 2nd leading point scorer in Joe Brown which doesn't seem to phase GR-D's M. Lukkasson, "Joe who?" Sabol returns in net for R&R…and will be tested. More of the same as week 1.
GR-D 4-2
Red Pep vs. AE2S
Red Pep looks to get back on track and shut down a confident AE2S, riding a 2 game win streak. The largest win streak AE2S has put together in the modern decade. AE2S's S. Gaddie on the recent string of luck, "…..Whats the leagues doping policy, cause I know in Barons, it was kind of encouraged???....." Kidney dysfunction and hypertension aside, an upset lurking.
AE2S 4-3
Joes vs. Atlas
Joes will continue to have a tough task ahead as they face off against one of the best Goaltenders in the league, in Sauve. Sauve, "Its incredible how physically fit I am right now; I eat, sleep and drink the Gym Life right now, not to mention 11 hours a week in the tanning bed". When he's not preparing himself for a casting call to the Jersey Shore, he's been able to frustrate teams. Assuming Jari and his supporting cast can help out on the other end of things, they should stifle Joes.
Atlas 6-2
BWW vs. Adams
BWW is on a thumbs up pace from the Commish as this years Lady Bing Team Award finalist after roughly averaging 1 penalty per game thus far. Langerud's comments, "we're kind of that cuddly teddy bear team out there". Certainly not the toughest beer league quote we've heard this year. They were my sleeper team last year going into the playoffs and will need turn things around in the next 4 weeks to regain my confidence. Adams is fast and potent offensively. It will be closer than some think.
Adams 5-4
Week 9 Picks
BWW vs. Atlas
Atlas's Halverson and J. Roinila still writhing with confidence after some great individual performances during the All-Star week. Halvorson not only boasting about being Forx's current front runner for the 'Best Hockey Hair' award, at thehalfway point, but also showing that he can juke around stationary cones better than anyone else after winning the Obstacle course. Halvorson on his special night, "…..it was real special out there". A week full of great matchups and this one will get the night started. Jari and company will test Butkowski in net for BWW.
Atlas 6-4
R&R vs. Red Pep
Red Pep hoping Peppergate© is now behind them as a new internal league investigation is pending. Drama unfolded last week after what was thought to be some questionable scheduling by the Commish, which is now being referred to as "ScheduleGate©". This is the kind of drama that brings the league down, this is some Judge Judy drama in the making. I like this matchup. Some speed on both sides and some grit as well. R&R needs to pull off an upset to stay in the mix for a shot at the top 6 with the playoffs in plain sight. Pep needs to be careful and not over look this squad.
Pep 5-4 S/O
GR-D vs. Rumors
Seems to be some biased votes as some how each week GR-D seems to find themselves in the Game of the Week. GR-D suffering key losses this week with the leagues 2nd Leading scorer sidelined for up to a month after Bilateral Inner ear Surgery. Game of the week and although GR-D will be missing a few key components they will need to come together to find an answer against Rumors Decker in net. Decker on pace to be Forx's top goaltender for a 2nd straight year. Decker on his success so far, "I'm not one to brag and wont start to now… but I'm by far the best goalie and I'll probably shut out every team for the rest of the season since im this good." Top scorer with Lukkason vs. top goaltending. Rumors might have the extra depth needed tonight.
Rumors 6-4
Adams vs. AE2S
AE2S's Jay Tupa finally getting some team recognition after many years of being 'just another body out there' according to 2S's captain Solc. Tupa's beer league value on the rise after the Herald shared a story about him skating against Sidney Crosby back in the early 2000's, when he played for Powerhouse Crookston. That Story here. Keith Johnson claims the bond between he and Tupa has only "blossomed" since this story broke last week; Johnson, "I attended a Jewel concert once, we now can relate on how we were both inspired by someone famous." Fame and lack of fortune aside, theres a game to be played. Adams has had roster numbers issues but have played well despite that.
Coinflip. AE2S 5-4
Joes vs. GR-B
Joes has been the underdog in what seems to be every calendar game this year. Same story this week. GR-B is on top of the standings and for good reason, they've been winning……. Assistant captain, Kuntz, on the recent rise to the top "…..? theres a Standings page??... we just kinda show up and play each week". Disappointing answer after all the time I spend on this each week…  GR-B keeps rolling. Joes has its eyes set on week 10 .
GR-B 6-2
Week 8 Picks
GR-D vs. Red Pep
GR's long-awaited rematch after last years summer-long emotional sting, due to Peppergate©. Steven Theisen, who hasn't skated for GR-D in over two years but still listed on their active roster, quoted via a Skype Call, "These Pepper guys are the Russians of the Forx League, real good…and everyone wants to beat them." GR-D known to be sluggish in major matchups. Pep in a S/O.
Pep 5-4 S/O
Joe Blacks vs. Rumors
Joe Blacks represented the All-Star week well and have the fire power and the fellas to battle each week. Cink back in the line up and a new years resolution to get a W…Joes will bounce back. Rumors Hegg begs to differ, thinking it was a wrapped snow shovel under the tree ended up being a new stick for his collection. Hegg, "it's a Patrick Kane curve…so that's how you know its good". Rumors too deep.
Rumors 4-2
Adams vs. R&R
R&R still hopeful to get starting goaltender Sabol back from IR who has been week to week with what was rumored to be an elbow injury during an unfortunate dog walking incident. Also to note the injury is the leading vote getter in Forx Hockey's Darwin Awards.  If he's still out, Adams grinds it out.
Adams 6-5
GR-B vs. BWW
BWW plays the GR's tough. Expected to be a goaltender dual as both teams can be stingy in net. If BWW can show the same intensity as they showed GR-D, they have a solid chance in uprooting one of Forx's most defensively sound teams with Jacobi and Kuntz on the blue line. GR-B always seems to wear teams out… no funny business here. GR-B puts Bukowski to the test.
GR-B 5-3
AE2S vs. Atlas Auto
AE2S boasting the leagues best PP%. Holiday interview with 2's Solc, had him mention that his team planned on 'taking a few dives' out there to enhance their chances with that PP. Solc, "its one of those games you send your worst guy out there to flop around and draw a few". B. Gaddie (AE2S) on being that guy, "I was a huge theater buff in HS…I'll look like a fish out of water".
Atlas 5-4
Week 7 Picks
Atlas Auto vs. R&R
Atlas still looking for a few bodies to fill their roster out; this news per a source at the Herald's Classifieds section as they are using any media tool possible. Atlas looks to regroup after the holiday and unwrap a few ringers into their lineup. R&R will sneak out a W against a solid goaltender in Atlas's Sauve.
R&R 4-3
Red Pep vs. Adams
2 top team's faceoff in what is expected to be an offensive frenzy. Adams Geatz, excited about one more week of trading in the Dad Jeans for hockey pants before the break. Geatz on the skinny jeans vs. breezers, "hoping Santa brings a gift card for The Buckle, need to maintain a high profile with my line mates". ?????? Not sure what that has to do with the Game of the Week. Coinflip.
Adams 4-3
BWW vs. Rumors
BWW needs to show they can play with the big dogs, and not just be known as the team that cuts players when certain guys (Dennison) have repeatedly low-level production for them. BWW pulls an upset and gives Rumors something to stew over the break.
BWW 5-3
Joes vs. GR-D
No mistletoe on the ice here. GR-D spanked last week in a tough loss and Joes chasing history with a Cleveland Browns start to the season. GR-D strength of schedule in the next 3 weeks will test this up-and-down team, might overlook this matchup. Dennison on the matchup, "did you really need to use 'low-level' in that last paragraph?" Joes goes for it.
Joes 5-4
GR-B vs. AE2S
AE2S's Solc fighting a tummy bug this week. Could be a huge loss as Muehlberg cant depend solely on his muscly arms and 3 pre-game beers, tunnel vision out on the ice. GR-B is too sound in all facets of this weeks contest.
GR-B 7-3
Week 6 Picks
BWW vs. Joe's
Coming off an emotional tie, BWW played a solid 2-way game last week against GR-Day all while losing 2nd line captain Langerud to an upper body injury. Langerud on the injury, "I'm on some pretty sweet meds right now." Joes Byram listed as questionable which adds to the 'key losses' report. If Byram laces up the skids, Joes gets their W.
Joes 4-3
GR Broods vs. R&R
R&R's Seng is currently Forx Hockeys Cole Smith on the ice. Spent more time in the box than anyone this season but when on the ice he can be a solid 4th line contributer. Seng's comments, "need to lead the league in something." ☹ Incorrect answer……. Broods has continued to stifle teams with low numbers. Their defense is frustrating to skate against. The Leagues oldest average age (37) will handle the leagues youngest average (21).
GR 6-3
GR Day vs. Adams
GR Day's Dennison played like a man possessed against his old team that he whole-heartedly cut from 2 years ago. Rumors are lingering that the Commish is considering adopting a Barons League style schedule format; to rearrange a matchup between BWW and GR-D for the remainder of the season to insure the same level of play by Dennison. Both teams played gritty games last year and split the season series. Rosters are roughly the same…the matchup represents the game of the week well.
GR-D 7-4
AE2S vs. Rumors
This matchup is casted as Forx Hockey's version of the "Victoria's Secret Fashion Show". Both teams sporting new threads on the ice. AE2S's B. Gaddie on the new digs, "I look and feel incredible out there!" It certainly showed after he recently scored a goal in roughly 11 years, dating back to when he was tearing it up at the PeeWee level. Glamour and Fashion aside. Rumors rolls.
Rumors 6-3
Red Pep vs. Atlas
Atlas's Corbett anxious to get back in the lockerroom and show off his Beach body tan lines after a much needed midseason vacation. After 5 weeks the Roinila Brothers were finally back together after early family turmoil, Jari on the union, "we're speaking again…". Aubol still miraculously pointing up numbers week in and week out… Scouts drooling as it's a contract year for him. Aubol and his supporting cast too much to handle.
Red Pep 7-3
Week 5 Picks
Adams vs. Atlas
Atlas expected to bring in a couple recruits to help fill out the shorthanded roster. S. Mutscher on the roster needs, "too bad Pepper swallowed up all those Panzer skate guys…could have used a few". Team chemistry wont click quite yet.
Adams 6-2
BWW vs. GR Day
Daydreams trying to avoid a Turkey Day Hangover, along with last weeks Dennison debacle causing a riff in the locker room. BWW came away with a 2nd half victory last season on a brick wall performance by BWW's Butkowski, "I blacked out for 51 minutes last year". GR's Theisen on Dennison and this weeks game, "Denny's uninvited to my birthday party…..Now Let's do that hockey".
GR 6-3
Joe Blacks vs. AE2S
Both teams due for a W. Joes playing more of a mellow game last week after fireworks the week before. Joes' Grosz on last week, "Just isn't a Joes hockey game if someone on….or off the ice isn't getting yelled at!!". Muehlberg looks to stay hot for AE2S, if so, AE2S gets their first win.
AE2S 4-3
GR Broods vs. Red Pep
Broods boasting their largest roster since the teams original inception dating back almost 23 years ago with 12 players last week. Broods Benke on the inflated roster, "I'm finally tuned for 8 to 10 minute shifts, not this 3 minute BS". Broods likely to 'not call a few guys' and get back to normalcy. Aubol continued to stay hot with another multipoint night before the holiday break. Aubols thoughts, "yeah, maybe you could get a quote from another guy on our team, you literally make this junk up every week and slap my name behind it."
PEP 5-4
R&R Gravel vs. Rumors
This could be a fun matchup. As always the R&R guys bring youth and a low percentage of body fat to the table. Rumors ailing a bit on the roster as a few guys have been working thru some injuries. Most recently to Rumors Robinson, who is battling through an undisclosed lower body injury suffered during an unfortunate Christmas lights hanging incident. If Wurden plays they win.
Rumors 6-5
Week 4 Picks
Red Pepper vs. Rumors
Two top goaltenders matched up this week in a rematch of last years championship in the Turkey Day Game of the Week. Pepper getting timely scoring from their newly promoted 3rd line forward, Aubol. After netting two more last week he fired back at his squad, "Theres a chance I really am the 'Real Deal'". Peppers Tellmann on playing the 6:15 game this week, "Guess we'll have to try things with our 'actual' roster this week". Nonetheless, both teams can score.
Coinflip: Pepper 5-3
AE2S vs. BWW
AE2S still searching for their first win of the season, and winless dating back to week 15 of last season. AE2S strength of schedule no excuse for 2S' Solc, "….Its no excuse…..". AE2S unveiling their new jerseys tonight, hoping that will inject some life into this winless squad.
AE2S 3-2
Ground Round/Broods vs. Adams
Another Close 2nd in the Game of the Week Ranks. This will be a defense ridden snoozefest. Back end defenders Kuntz(GR) and Bacskai(adams) look to shut down their respective opponents. Habitually late for puck drop in the first 3 weeks, Kvistad, on his tardiness, "A mans gotta nap". This one depends on which Forward can get it done, Adams Martinson or GR's Hovet.
GR 4-3
Joe Blacks vs. R&R Gravel
Joe Blacks staying afloat with 1 point is due for a win. Gravels speed seems to be a key each week. No funny business here. Joes has the personnel, just need to slow down the young guns. 2nd week in a row of "speed kills".
R&R 4-3
Ground Round/Daydreams vs. Atlas Auto
Atlas suffering key losses in the off-season, the other story line has been the absence of M. Roinila. Teammate, Jari, on his absence, "not only does it hurt our team, …hurts as a brother". Meanwhile, M. Lukkason got the monkey off his back after two dismal weeks to start the season. Lukkason on this weeks matchup, "Pass me the biscuit…..i'll pour the gravy".
GR 6-4
Get to know your Forx Hockey Players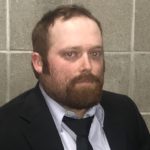 Question 1: You were the league leader in Goals last season after week 2, with 3 goals… what happened weeks 3 thru 17 where you were considered to be a non-factor, with 0?
ED: Well, I like to think that I came out trying to prove myself after taking a few years off and being the new face in the locker room and I DID.
After my hot start a lot of the "older" players were jealous of my youth and how in-shape I am.
Question 2: You won the award of 'Least likely to suceed in year 2' at last years award banquet, what plans do you have to accomplish this?
ED: Well, my plan to accomplish this is to get comfortable in my role with the team, drink more beer, and irritate my teammates as much as possible.
Question 3: Recent league drama shows you were cut from the BWW team a couple years back, who would you feel was responsible for making that Front Office decision, First and Last name?
ED: Yeah, it really hurt to go from top player on a team to getting hurt and then cut. I had to do a lot of soul searching at the bottom of a can. One name…. Brenton Langerud
Question 4: If you could be like any other fellow beer leaguer, who would it be and why?
ED: Wow, Tough question. First thought…myself, but maybe the one year wonder guy from GR/Daydreams, Austin. Guy was basically going to retire of old age,
then decided to come back and have his only career year.
Week 3 Picks
AE2S vs. GR/Daydreams
Both teams coming off emotional losses. GR's more emotional because they
didnt win the inaugural GR Golden Rounder Cup I (the Commish) spent 24 damn hours
creating. Trophies aside. AE2S's Solc "we've had these losers bookmarked since
the schedule was posted". Too many new faces on AE2S, chemistry not there yet.
GR 5-4
Atlas Auto vs. GR/Broods
Broods continue to win with short numbers. Boasting a season high, 7 players
last week. Kvistad is playing some of his best hockey since he won the Cup on XBOX's NHL 17
a season ago. Kvistad, "great group of guys so far the first 2 weeks…….no idea who half of them are
each week……. But they seem nice".
Broods 6-5
Buffalo Wild Wings vs. R&R Gravel
Two of the youngest average aged squads matched up here. This game screams a
marquee headline of "My dad is stronger than your dad". Something to note from the
Forx Hockey Combine that was held in July: R&R team %body fat is 2.9%. Forx Hockey
League requires a Beer League minimum average of 10% or more.  BWW in at 19%.
Speed Kills.
R&R 5-3
Rumors vs. Adams
Potent offenses matched with deep benches. Adams 4th line forward Geatz pregame,
"I'm excited for the best to play the best, the best team will come away with this one".
??????????  Martinson for Adams and Hegg for Rumors stay hot.
Rumors 6-5 S/O
Joe Blacks vs. Red Pepper
Pep rolling with 2 players registering 4 pt. nights a week ago. Peppers Aubol scoring his
2nd goal in as many weeks/decade. Aubol, "somebody get me a lottery ticket". Joe's is
ready to put up big numbers but not sure this is the week.
Pep 6-3
Week 2 Wednesday Rewind
Joe Blacks vs. Adams
Adams squeaked out a win after a pesky Joe Blacks team kept
battling back. Forx Commish was on the ice in stripes for this one,
"great game to watch, clearly every player out here knows I have no idea
whats going."
AE2S vs. R&R Gravel
Another barn burner that went R&R's way. Was able to run into
Gravel's former Forward, Schumer, in the stands after the game. When
asked when he'll get back out there, "no comment, been a hell of a grind
with this contract stuff….its business, but glad to see these guys get the W."
Rumors vs. Atlas Auto
Hot start by Atlas but Rumors didn't mind, answering back with 5
goals of their own. Both teams prepping for Week 3 as they'll face off
against top of the leaderboard squads.
Buffalo Wild Wings vs. Red Pepper
Peppers Horn and McIntyre lit up the score board both boasting
4 point nights. Horn's comments when asked about what he thought
about making this weeks Forx Hockey Players of the Week list,
"Forx what???, when did Baron change the name of the league?"
Ground Round/Daydreams vs. Ground Round/Broods
Broods took the rights to the newly created Golden Grounder traveling
trophy used for games between the two GR teams. Dominating 9-3.
Daydreams Goalie post game, "the puck looked to be like the size of a skittle
tonight…, just wasn't my night to taste the rainbow".
WEEK 2 PICKS
Joe Blacks vs. Adams
Joes needs to find an answer for Martinson who got things going on
the inaugural leader board. Joes new guys, Byram and Cink, need to
show why they were brought on board. Adams is just too deep…
Adams 4-2
AE2S vs. R&R Gravel
Both teams coming off emotional close game losses. Youth will be
the key here?? AE2S's Solc, "these kids were in diapers when I started
Beer League". Mixed thoughts here…maybe the Snail wins the race…
AE2S 4-3 Shootout
Rumors vs. Atlas Auto
A close 2nd place to being the Game of the Week. High powered Beer
League offenses expected to be present. Rumors boasting a league high
18 rostered skaters, Rumors Kouba quoted after last weeks 2nd period,
"I only got one shift this period!!??". Rumors Bench is too deep for the
Roinila Brothers to counter.
Rumors 6-4
Buffalo Wild Wings vs. Red Pepper
Pep coming off a big win despite McIntyre being out of the lineup. Peps 4th Line,
Aubol, scoring his 1st goal of the decade ended up being crucial in the win.
BWW still trying to find their identity with Butkowski now listed as the everyday
goaltender after last seasons drama between he and Melland.
Pepper 1-0
Ground Round/Daydreams vs. Ground Round/Broods
Another fairytale battle for bragging rights and the winners choice of their
favorite table location after the game. Daydreams roster stayed roughly the same
one year to the next, led by Joe Brown coming off a season high, 3pts. Brown after the game,
"can't wait to tell my wife about my big night!!" Daydreams will catch a break as Player to Watch,
 Chuck Jacobi, listed as out, for violating league rules.
GR/Day 7-3